(Türkçe çevirisi aşağıda)
I'm saying this because of the latest researches. You may have heard that there are lots of terms like 'alkaline', 'alkaline diet', and they have serious followers. If you are confused with the term of 'alkaline', then let me tell you a little bit about it first. You know pH, right? It is a term used in chemistry to measure the acidity or alkalinity of whatever, everything has a pH. Between 0-7 is acidic, 7 is neutral and 7-14 is alkaline. Every organ and liquids in our body have different pH levels, but what is important for us, well, it is the blood. A healthy person's blood pH ranges between 7.34 to 7.45, so it is slightly alkaline. Researches indicate that if your blood pH is lower than 7, then you are prone to chronic diseases, because low pH means lower oxygen, and diseases love that kind of environment. Because whatever we eat goes through our bloodstream, we have to eat more alkaline than acidic. The ratio should be 75% to 25%, so that our body can find the balance. What are the alkaline foods? Greens, vegetables, sprouts, fruits, soaked almonds, seeds, sea vegetables and algaes, cold pressed virgin oils, herbs and spices. The acidic foods list is very long but consider everything not in a whole form, packaged goods, caffeine, animal protein, flour, refined sugar, processed soy products and nuts.
You may think that 'but what I am going to eat?!' if animal protein, flour products are a big part of your diet. Like Michael Pollan says, "Eat (whole) food, not too much, mostly plants." I agree with him. Whether you decide to go 100% alkaline, or 75%, which lets you cheat a little bit, but try to remember to eat mostly for your well being. Like in life, balance is the most important thing in our plates!
Now, onto the breakfast. An alkaline breakfast is not so difficult, but I see sometimes people struggle with what they can eat first thing in the morning. In my opinion, starting your day off with alkaline and raw foods, is really increasing the overall quality of your day (an observation coming from my experience with clients and myself). Almond milk is one of the most essential things in my kitchen. I am not talking about the packaged almond milk though. It is healthier to do it yourself, at least you know what is in it. It is so yummy, and it is alkaline! You can use it instead of regular animal milk, it can replace it in every recipe, like smoothies, soups, ice creams.. In short, it is the most healthiest alternative for animal milk and it has a great consistency, you may be surprised. It contains more absorbable calcium than regular milk by the way!
It is very easy to make: soak 1 cup raw almonds for 8-12 hours. (We do this because the enzymes will be activated, the nutritional value goes to the top, and it will be easier to digest. If you don't put them in water, it won't work!) After the almonds soak a good amount of water, blend them in Vitamix with 2-3 cups of water. The less water you use, the thicker the consistency will be. You will be surprised, you have a pure white milk behind you! Strain the milk through a nut milk bag, and press all the milk from the almond pulp inside the bag. The almond pulp can be used instead of flour, you can use it wet or you can put it in a dehydrator make it crunchy. The almond milk will last 3 days in a refrigerator.
The easiest and yummiest thing you can do with this milk is a fruit smoothie. It is one of my favorite breakfasts, very quick and easy to make, and it makes me full till lunchtime. The 3 basic parts you need to think about when doing a smoothie is; The Base, The Core and Sweetener. The base can be almond or any nut milk, coconut water or fruit juice. The core is what you put as a solid food, and that is mostly fruits. You can use coconut meat as well. A little tip here can be useful; try to put your fruits in freezer, so that you won't need to use ice. Ice dilutes the smoothie which can affect the taste. Peel the bananas and cut in half, wrap them with oily paper and put them in freezer, so that you will have access to frozen fruits all the time. Very practical. In the sweetener part, I like to use superfoods, such as maca, hemp seeds, spirulina, bee pollen, goji berry, that list is long. (They deserve another post.) They give me lots of energy and I take most of my daily vitamins and minerals in one drink.
1 frozen banana

1 cup frozen strawberries

3/4 cup almond milk

1 tablespoon raw honey with mastica (Vegans can use agave or maple syrup)

a little bit Himalayan salt
Additionally, I put 2 teaspoons of 'Chai' spice that I made myself; it has ginger, white pepper, cloves, nutmeg and cinnamon almost equal amounts.I also use bee pollen as a garnish.
Another alternative for a breakfast is; mix blueberries, apricots, oats, honey, hemp seeds, cinnamon, almonds and pumpkin seeds. You can mix the dried goods and put in a jar, then mix with the fresh fruits and sweeteners when you decide to have a breakfast. You can use seasonal fruits and whatever nuts you like. Goes great with almond milk.
Use your imagination, put your love in it. That matters the most!
Bon Appetit!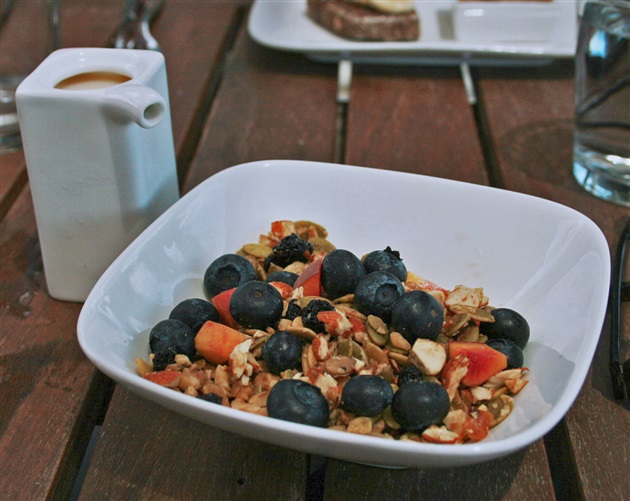 P.S. This is the translation of the post I wrote for Vogue Turkey Gourmet Blog during July 2013.
////////////////////////////
Güne alkali başlamak lazım…
Bunu son yapılan araştırmalara dayalı olarak söylüyorum. Belki duymuşsunuzdur, son zamanlarda ortada sürekli dönen 'alkali' diyet, 'detoks' gibi kavramlar var. Arkasında da ciddi takipçileri var. Alkali diyet tarzı hücre biyokimyası seviyesinde sağlığı koruyan bir beslenme şekli. Kafanız mı karıştı? Hemen basitleştireyim; pH değerini duymuşsunuzdur. Asitlik veya bazlık(alkalik) derecesini tarif eden ölçü birimidir, 0-7 arası asidik, 7-14 arası ise alkaliktir. Vücudumuzun her organı ve sıvısı farklı pH değerlerine sahip. Fakat bizim için önemli olan kanımızın pH idir, sağlıklı bir insanın pH oranı 7.34-7.45 arası değişir. Her yediğimiz içtiğimiz kana geçtiği için, yediklerimizin %75 inin alkali olması bizim sağlıklı olmamızı garantiler, ve diğer yediğimiz %25 asidik besinleri tolere edip dengeler. Nedir alkali gıdalar? Bütün yeşillikler, sebzeler, meyveler, deniz sebzeleri ve yosunları, badem, baharatlar, soğuk sıkım yağlar. Asidik gıdalar ise geriye kalan herşey, yani hayvansal protein, beyaz un, şeker, paketlenmiş gıdalar, kafein, soya ürünleri, patates ve mısır, ve kuruyemişler.
Liste moral bozucu olabilir, ama unutmayın ki kimse size bunu asla yemeyeceksiniz diyemez. Hayatta olduğu gibi tabağımızda da en önemli şey denge!
Şimdi kahvaltıya gelelim. Güne alkali ve çiğ besinlerle başlamak, gerçekten günün kalitesini arttırıyor, bunu hem kendimde hem de misafirlerde gözlemleme şansım oldu. Benim için vazgeçilmez bir kahvaltı ürünü badem sütü. Fakat marketlerde satılan paket sütlerden bahsetmiyorum. Badem sütünü kendiniz yapmanız en sağlıklısı, en azından içine ne girdiğini biliyorsunuz. Hem çok lezzetli, hem alkali, hem de hayvansal süt yerine her yerde kullanabilirsiniz. Smoothie olsun, granola ile olsun, çorbalarda, dondurmalarda, kısacası sütün daha sağlıklı alternatifi ve bence çok daha lezzetlisi, kıvam açısından da sütü sollar, şaşırabilirsiniz. İlginç bir bilgi daha, hayvansal sütten çok daha fazla 'emilebilir' kalsiyum, daha fazla mineral ve vitamin içeriyor. Alkali olduğunu da söylemiş miydim?
Yapılışı çok kolay: 1 bardak (amerikan ölçüsüyle cup) çiğ bademi suya koyup 8-12 saat ıslatın. (Bunu yapmamızın sebebi hem bademler canlanıyor, enzimler aktif oluyor, besin değeri artıyor ve hazmı kolaylaşıyor. Suya koymadan badem sütü yaparsanız aynı lezzeti yakalayamazsınız.) Bademler suyu çektikten sonra (kabukları soymanıza hiç gerek yok!), 3-4 bardak saf suyla bademleri blenderdan 1 dk boyunca geçirin. Görüntü sizi şaşırtacak, önünüzde bembeyaz bir süt duruyor! Bir kabın içine, çok ince bir süzgeç veya bez kese/tülbent vasıtasıyla sütü süzün. Kese kullanıyorsanız altından yavaşça sıkarak bütün sıvı akana kadar iyice sıkın. Kesenin içinde kalan karışım badem posası oluyor. Bunu un gerektiren heryerde kullanabilirsiniz! Ve badem sütünüz hazır. Buzdolabında muhafaza etmek şartıyla 3 gün boyunca dayanıyor.
Bu sütle yapılacak en güzel şey bence meyveli bir smoothie. Benim favori kahvaltılarımdan bir tanesi, hem yapımı kolay ve çabuk, hem de beni öğlene kadar tok tutuyor. Smoothie yaparken 3 şeye dikkat ediyorum; Baz, Kalp, ve Tatlandırma kısmı. Baz kısmı badem sütü, hindistan cevizi suyu veya meyve suyu olabilir. Kalp kısmı katı olarak koyduğum şeyler bu da genelde meyveler oluyor. Burda küçük bir ipucu; meyvelerinizin bir kısmını buzlukta saklayabilirsiniz, böylece smoothie yapmanız gerektiğinde buz kullanmanız gerekmez. Buz sulandırıp tadını bozuyor. Muzu soyup, ikiye bölüp yağlı kağıda sarıp buzluğa atabilirsiniz. Çok pratik bir yöntem. Tatlandırma kısmında ben 'Superfood' diye adlandırılan besin değeri çok yüksek besinleri kullanmayı seviyorum. Hem sabah bana enerji veriyorlar hem de günlük vitaminimi almış oluyorum. Favorilerim arı poleni, maca tozu, goji berry, spirulina, hemp seeds, bu liste uzar gider. Onlar ayrı bir yazıyı hakediyorlar.
1 muz

1 bardak çilek (donmuş)

¾ bardak badem sütü

1 tatlı kaşığı damla sakızlı bal (Veganlar agave veya akçaağaç şurubu kullanabilirler)

biraz Himalaya tuzu
Ek olarak evde hep bulundurduğum 'Chai' Baharatı karışımımdan 2 çay kaşığı koyuyorum; içinde zencefil, beyaz biber, karanfil, muskat, ve tarçın tozları var. (Zamanında Starbucks ın Chai Tea Latte sinden esinlenerek uydurmuştum bu baharat karışımını.)
Süslemek için de arı poleni kullanıyorum.
Bir başka alternatif olarak; likapa (blueberry), şeftali, yulaf ezmesi, bal, hemp seeds, tarçın, badem, kabak çekirdeğinden hazırladığım bir karışım var. Bal ve taze meyveler dışındaki diğer malzemeleri önceden karıştırıp kavanozlarda hazır bulundurabilirsiniz. Mevsimine gore istediğiniz meyveleri ve kuruyemişleri karıştırabilirsiniz. Badem sütüyle harika gidiyor.
Hayal gücünüzü kullanın, sevginizi içine katın. Herşeyden daha önemlisi bu!
Afiyet Olsun!
P.S. Bu yazıyı Temmuz 2013'te konuk yazar olarak Vogue Gurme Blog için yazmıştım. Siteye buradan ulaşabilirsiniz.