(Türkçe çevirisi aşağıda)
My idea of salad does not consist of a classic combination of lettuce-cucumber-tomato-olive oil (Like we see in most restaurants in Turkey). If they'd tell me that I will like to eat salads 3 years ago, I would laugh. I never become a salad person, nor counted them as a main dish. I think it is not my fault though, it is the flavorless, tasteless mixtures served to us in most of the restaurants (I don't even want to call them salad). Now, I see salads as an opportunity to combine unlimited amount of flavors, they are very quick, easy and practical. They are very filling too! This is a recipe I made up for lunch on my birthday, I didn't have many ingredients in my refrigerator, and I found frozen strawberries in my freezer, so I made a vinaigrette with them. Very simple ingredients, and it took 5 minutes to prepare the whole thing. Result: It is the tastiest salad I have eaten in months. If I'd open a raw food restaurant in the future, this would be the queen dish.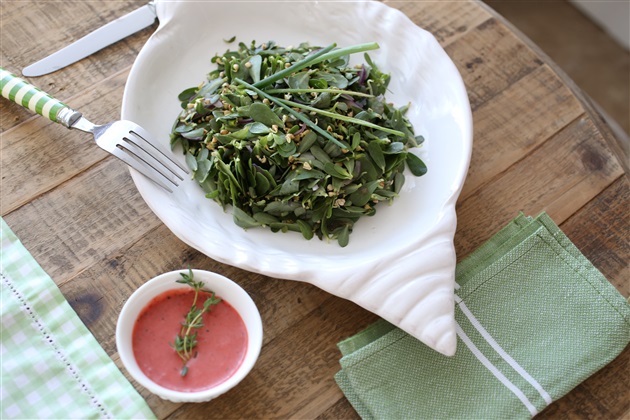 First I have to explain the buckwheat and sprouting process. Buckwheat is a superfood, and like quinoa, it is a 'complete' protein (A complete protein because it contains all the 8 aminoacids that your body needs). It has 13%-15% of protein content. The award of the highest quality, highly absorbable vegetable protein goes to buckwheat. It also contains lysine, a phytochemical that makes 74% of the protein absorbable by your body. The amount of lysine content is higher than of brown rice, wheat and soybean sprouts. It is widely used in heart disease and cancer treatments. I liked it most because it is very filling and contains  a very good amount of fiber. Don't be fooled with the 'wheat' name, it doesn't contain gluten as they are not in the same family. The only thing to consider when buying buckwheat is the color. It should be light green-yellowish color. If it is brown, it is processed buckwheat probably coming from Romania. It lacks most of the nutrients. And if you can find the organic buckwheat, bingo.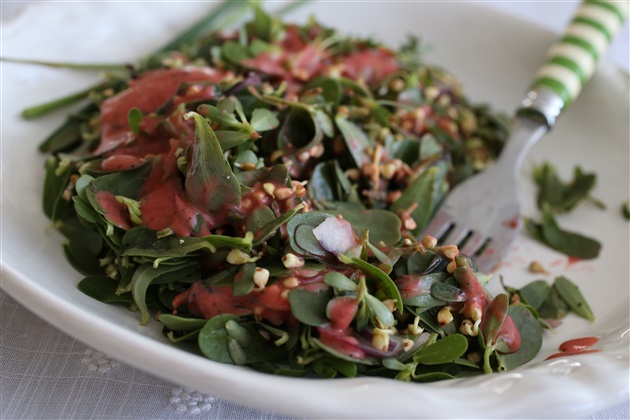 Onto the sprouting. It is a very easy thing actually. I sprout most of the grains and seeds and I eat them that way. Because the sprouts are 'alive', they contain up to 100% more enzymes than the unsprouted grains, seeds, veggies and fruits. Again the sprouts, contain more protein, vitamins, minerals, fatty acids and fiber than vegetables. Meaning their nutritional value increases dramatically, especially protein and vitamin content. For example, mung bean, when sprouted, has a 285% increase in B1 vitamin, 515% in B2 vitamin, 256% in niacin. Another superfood. So what are we waiting for? Here is how you can sprout grains; First you have to soak the grains overnight. Then, in a tray, put a wet thin cloth and seeds on top. The seeds needs to be humid, but not soaked in water (Wet the towel again when it is dried). They will sprout in 2-3 days. Here is a list of the best grains to sprout; mung beans, green lentils, black lentils (sooo tasty), chickpeas, alfa alfa, buckwheat, wheat, quinoa, fenugreek. These are my preferred grains but of course, you can sprout other grains & seeds.
For the salad
1 big bunch of wild purslane (you can also use normal one with wide shaped leaves)
1/4 red onion, sliced thinly and massaged with Himalayan salt
half cup buckwheat, sprouted
Strawberry Vinaigrette
3/4 cup strawberries
1 tablespoon thyme
2 tablespoon organic apple cider vinegar
4 tablespoon organic cold pressed grape seed oil
Himlayan salt
Use only the leaves of the purslane (don't throw away the stems, use them for the green juice. It is one of the best Omega 3 sources in the world.)
Massage the onions with a little bit Himalayan salt and add to the purslane. Add buckwheat sprouts on top and combine these 3 ingredients by hand.
For the sauce, blend all in a food processor. Serve with salad.
You can use chives to garnish.
P.S. This is the translation of the post I wrote for Vogue Turkey Gourmet Blog during July 2013.
////////////////////////////
Filizlendirilmiş Karabuğday Salatası
Benim salata anlayışım marul-domates-salatalık-zeytinyağı gibi klasik kombinasyondan ibaret değil. 3 sene önce salata yemeği çok seveceğimi söyleseler yüzlerine gülerdim. Asla salata insanı olmadım, onları ana yemekten saymadım. Sanırım suç bende değil. Bize salata diye yedirilen lezzetsiz karışımlarda… Salata şu anda gözümde, nerdeyse sonsuz miktarda lezzet eşleşmesi sağlayabilecek, pratik, basit ve bir o kadar doyurucu bir yemek haline geldi. Yani anlayacağınız, benim salata anlayışım marul-domates-salatalık-zeytinyağı gibi klasik kombinasyondan ibaret değil. Bugünkü tarifi geçen günkü doğumgünümde ogle yemeği için zorunluluktan uydurdum. Hafif ama doyurucu, malzeme olarak da beni alışverişe zorlamayacak, elimdeki malzemeleri değerlendirebileceğim bir tarif olması gerekiyordu. Dolapta dondurduğum çileklerle bir de vinaigrette hazırladım. Bu kadar basit malzemelerle bu kadarını beklemiyordum. Sonuç: Son zamanlarda yediğim en iyi salataydı. Hatta ilerde bir Raw Food Restaurant açarsam kraliçe yemek kesinlikle bu olur.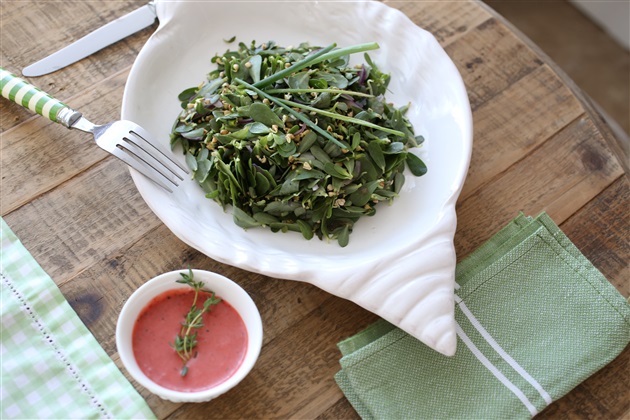 Öncelikle bu tarifte kullandığım karabuğdaydan ve filizlendirme aşamasından bahsetmem şart. Karabuğday son zamanlarda ünlenmeye başlayan, kinoa gibi 'tam' protein içeren bir tahıl. Tam protein, çünkü vücut tarafından üretilemeyen sekiz aminoasidi içeriyor. İçerdiği yaklaşık %13-%15 arası protein miktarıyla, tüm bitki aleminde bilinen en iyi kalite, yüksek oranda hazmedilebilir protein ödülü ona gidiyor. İçerdiği yüksek oranda lisin, karabuğdayda bulunan proteinin %74ünün vücudumuz tarafından kullanabilir hale getiriyor, bu oran kahverengi pirinç, buğday, hatta soya filizinden çok daha fazla. Kısaca 'superfood' dediğimiz süperbesinlerin önde gidenlerinden. Kalp hastalığı, kanser tedavisinde oldukça kullanılır. Ben özellikle olağanüstü tok tutucu özelliği ve içerdiği iyi lif açısından kullanmayı seviyorum. İsminde buğday geçtiğine bakmayın, gluten içermiyor, aynı familyadan değiller… Karabuğday alırken bakmanız tek nokta yeşil-soluk sarı renkte olması. Eğer kahverengiyse, Romanya dan gelen işlenmiş/kavrulmuş karabuğdayı alıyorsunuz. Besin değerlerinin çoğunu kaybetmiş oluyor… Malesef bulması kolay değil, ama imkansız da değil. Organik markalar satan marketlerde karabuğday (greçka diye de geçebilir) bulunuyor.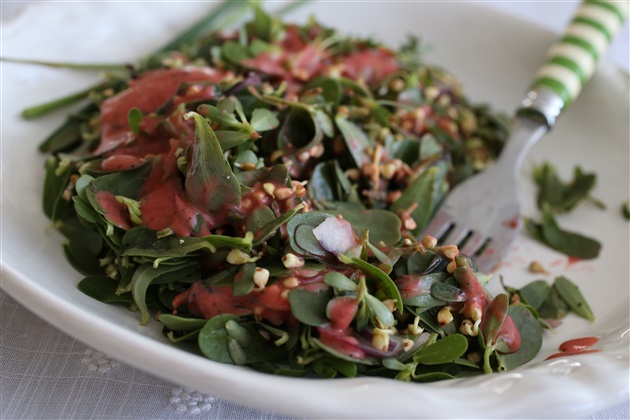 Filizlendirmeye gelirsek, yapması çok kolay bir işlem. Ben çoğu tahılları ve baklagilleri filizleyip tüketiyorum. Filizler 'canlı' oldukları için, tohumun filizlendirilmemiş halinden, meyvelerden ve sebzelerden 100 kata kadar daha fazla enzim içerirler. Yine aynı şekilde filizler, sebzelere göre çok daha fazla protein, vitamin, mineral, yağ asitleri ve lif içerirler. Yani besin değerleri çok ciddi oranda artar. Özellikle protein ve vitaminler dramatik oranda artış gösterir, örneğin maş fasülyesi filizlerinde B1 vitamini %285, B2 vitamini %515, niacin %256 oranında artış gösterir. Bir başka süperbesin daha. E daha ne duruyoruz? Hemen nasıl yapacağımızın tarifini de verelim; Bir kabın içine bu iş için ayırdığınız bezi ıslatıp serin. Üzerine de tohumları dökün. Tohumlar hep ıslak-nemli kalmalı. 2-3 gün içinde filizleneceklerdir. Filizlendirmek için en ideal tohumlar şunlar;
Maş fasülyesi, yeşil mercimek, siyah mercimek, nohut, alfa alfa, karabuğday, buğday, kinoa, çemenotu. Bunlar benim en çok tercih ettiklerim, tabi diğer tahılları da filizlendirebilirsiniz.
Salata için;
 1 büyük demet yabani semizotu (daha küçük yapraklıdır, normal semizotu da kullanabilirsiniz)

¼ kırmızı soğan, ince dilimlenip tuzla ovulmuş

 yarım bardak karabuğday, filizlendirilmiş
Çilekli vinaigrette;
 ¾ bardak çilek

çorba kaşığı taze kekik

2 çorba kaşığı elma sirkesi

4 çorba kaşığı üzüm çekirdeği yağı

Himalaya tuzu
Semizotunun sadece yapraklarını kullanın (saplarını atmayın, bunun suyunu sıkıp içebilirsiniz. Dünya üzerindeki en iyi Omega 3 kaynaklarından biridir.) Soğanları tuzla ovup semizotuyla harmanlayın. Karabuğday filizlerini de en üste ekleyin.
Sos için bütün malzemeleri robottan geçirin. Salatanın üzerine dökerek servis edin.
 Süslemek için de frenk soğanı kullanabilirsiniz.
P.S. P.S. Bu yazıyı Temmuz 2013′te konuk yazar olarak Vogue Gurme Blog için yazmıştım. Siteye buradan ulaşabilirsiniz.