(Türkçe çevirisi aşağıda)
It seems very unfair to me to call this dish lasagna (it is way more tastier than original!), however, the inspiration is coming from there. It already became a vegan cult. No flour, no cheese, no meat, no cooking. It is probably the healthiest lasagna ever made (and the tastiest). I have made my family to taste this and it really passed the test with a high score. It is Eid this time of year (the religious fasting month of Muslims) and this is great for 'iftar' (time for breaking the fast), as it is very, very filling for a long time. The reason is everything I use in this recipe is raw and very highly nutritious. Especially the pistachios and cashews are filled with fatty acids- thus make you feel full. Remember, you don't need to be afraid of oils in their natural state, like cold pressed extra virgin oils (olive, coconut, flax seed, grape seed…), and nuts. I always laugh when people are afraid of olives but eat brown bread without a doubt. It is more fattening than olives, that's for sure! (This is coming from a girl who eats 40 olives a day. I never had problems with my weight.) Be sure to include healthy fats in your diet. Don't forget your body needs them too. What matters for your body is high nutritional value, not calories…This recipe has a good nutritional value; vitamins, minerals, antioxidants and phytochemicals (like resveratrol).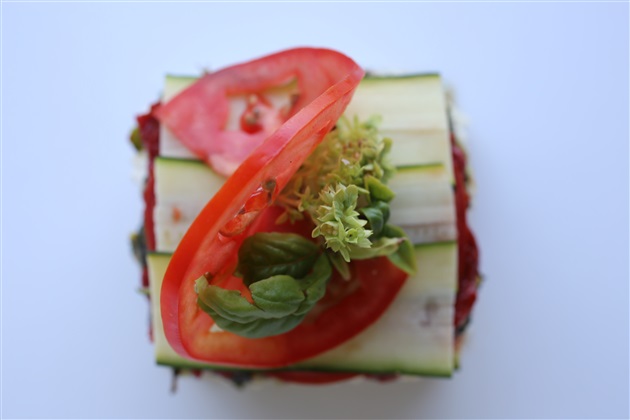 Pistachio Pesto Sauce
1/2 cup fresh basil
1/2 cup fresh mint
1/4 cup pistachios
2 tablespoons organic extra virgin cold pressed olive oil
1/2 teaspoon Himalayan salt
pepper
Process all ingedients in a food processor.
Raw Cashew Cheese
1 cup cashews, soaked 2-4 hours
1 tablespoon lemon juice
2 tablespoons water
1 tablespoon olive oil
1/2 teaspoon Himalayan salt
1 green onion, minced
Process all ingredients in blender.
Tomato Sauce
1/2 cup dried tomatoes, soaked 1 hour
1/2 tomatoes, chopped
1/4 cup red onion, chopped
1 tablespoon lemon juice
1 tablespoon organic cold pressed extra virgin olive oil
1/2 teaspoon agave or honey
1/2 teaspoon Himalayan salt
Process all ingredients in a Blender.
Other ingredients

; one tomato and one zucchini, sliced through a mandolin.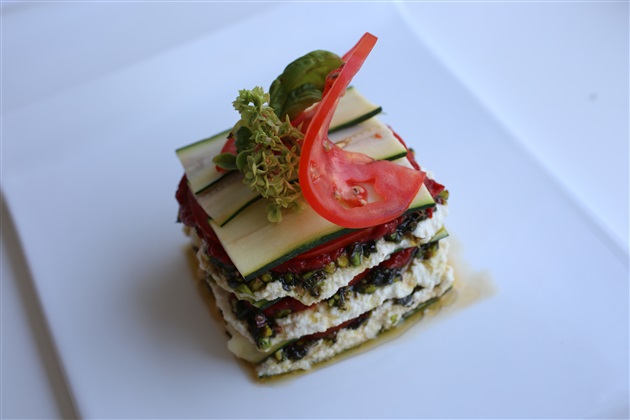 Cut the tomato in lengthwise very thinly. Using a mandolin, slice the zucchini lenghtwise, very thinly.
Line the base of your dish with a layer of zucchini strips, overlapping them slightly. On top of this, put down a layer of cheese, then pesto and the tomato sauce. On top put a layer of tomato, and repeat the layer again in same order (Repeat 3 times). Garnish with fresh basil. and a tomato slice.
P.S. This is the translation of the post I wrote for Vogue Turkey Gourmet Blog during July 2013.
////////////////////////////
Raw Food Lazanya
Bu yemeğe lazanya demek bana haksızlık gibi geliyor. Ne var ki, bu yemeğin ilham kaynağı bildiğimiz klasik lazanya. Ama bunda un yok, peynir yok, et yok. Pişirme de yok. E nasıl lazanya bu derseniz, dediğim gibi sadece yapılış şeklinden esinlenilmiş, veganların baştacı olmuş bir yemek, çok lezzetli ve doyurucu. Aileme test ettirdim, tam puan onay aldı. İftar için harika bir yemek, hem çok azıyla doyuyorsunuz, hem de sizi gerçekten uzun süre tok tutuyor. Sebebi ise kullandığım herşey çiğ ve besin değeri yüksek yiyecekler. Özellikle bu tarifte kullandığım caju fıstığı ve antep fıstığı, tekli doymamış yağ asitlerinden çok zengin olduğu için tokluk yaratırlar. Diyeceğim şu ki kuruyemişlerden, zeytinyağından kısacası doğal yağlardan asla korkmayın! Zeytini bol tüketin, zeytinyağı, diğer soğuk sıkım iyi kalite bitkisel yağları hayatınıza mutlaka sokun. Unutmayın ki vücudun iyi yağlara çok ihtiyacı var. Önemli olan kalori değil, kaliteli besin değeridir…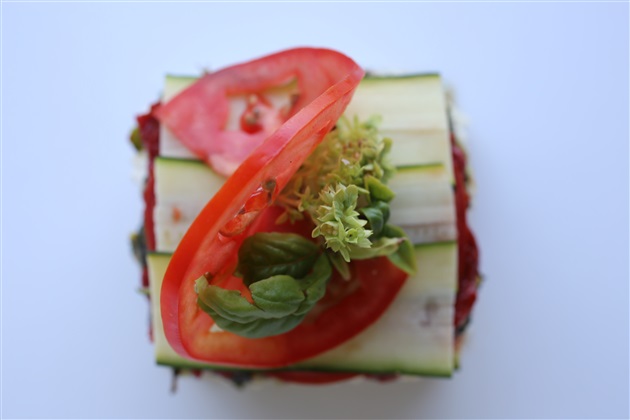 Lazanyamıza gelirsek, bu tarif iyi oranda vitamin, mineral, antioksidan, bitkisel kimyasallar (resveratrol gibi) içeriyor.
Antep Fıstıklı Pesto Sosu;
1/2 bardak taze fesleğen

1/2 bardak taze nane

1/4 bardak antep fıstığı

2 çorba kaşığı zeytinyağı

1/2 çay kaşığı Himalaya tuzu

karabiber
Bütün malzemeleri robottan geçirin.
Raw Kaju Peyniri;
1 bardak caju fıstığı, 2-4 saat suda bekletilmiş

1 çorba kaşığı limon suyu

2 çorba kaşığı su

2 çorba zeytinyağı

1/2 çay kaşığı Himalaya tuzu

1 yeşil soğan, doğranmış
Bütün malzemeleri Blenderdan geçirin.
Domates Sosu;
1/2 bardak kuru domates, 1 saat suda bekletilmiş

1/2 domates, doğranmış

1/4 kırmızı soğan, doğranmış

1 çorba kaşığı limon suyu

2 çorba kaşığı zeytinyağı

1/2 çay kaşığı agave/bal

1/2 çay kaşığı tuz
Bütün malzemeleri Blenderdan geçirin.
Diğer Malzemeler; 1 domates, 1 yeşil kabak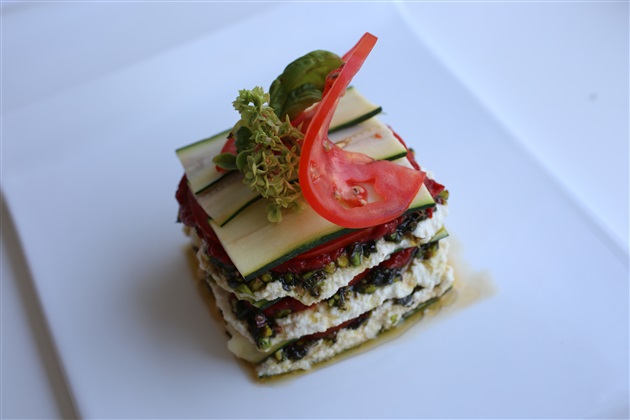 Domatesi enlemesine ince dilimler halinde kesin. Yeşil kabağı da Mandolin kullanarak rendeleyin, eğer yoksa çok ince dilimler haline kesin.
Tabağa ilk olarak kabakları kare olacak şekilde yerleştirin. Sırasıyla üzerine raw ricotta peyniri, pesto sosu, ardından da domates sosunu ince katmanlar halinde yayın. Bir dilim domatesi karışımın üstüne koyup, tekrar kabakları ve ardından aynı sırayla sosları koyun. 3 katman olacak şekilde yerleştirin. Domates ve fesleğenle süsleyin.
P.S. Bu yazıyı Temmuz 2013′te konuk yazar olarak Vogue Gurme Blog için yazmıştım. Siteye buradan ulaşabilirsiniz.